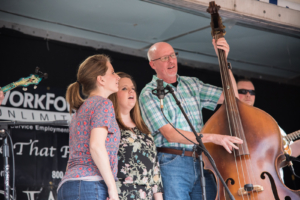 The festival hours are 9 am to 9 pm on Friday and Saturday, and 12 pm to 6 pm on Sunday.
ALL PETS are strictly prohibited inside of the festival boundaries.
BANDSTAND is at the intersection of Rawley Ave. and N. Main Street, Mount Airy.
See below for the schedule, or download the 2018 ALF Bandstand Schedule.
Friday October 12th
| | | |
| --- | --- | --- |
| 11:30AM | Opening Ceremonies | |
| 11:50 – 12:35 | The Foothills Band | (Bluegrass) |
| 12:35 – 1:20 | Crossriver | (Gospel) |
| 1:20 – 2:05 | Over The Hill Bluegrass Band | (Bluegrass) |
| 2:05 – 2:50 | Cranford Creek Bluegrass | (Bluegrass) |
| 2:50 – 3:35 | The Goodfellers | (Bluegrass) |
| 3:35 – 4:20 | Robert Tilley & The Hard Times Band | (Bluegrass) |
| 4:20 – 5:05 | Snow Creek Old Time Band | (Old Time) |
| 5:05 – 5:50 | 2 Young 2 Old | (Bluegrass) |
| 5:50 – 6:35 | Hubert Lawson & The Bluegrass Country Boys | (Bluegrass) |
| 6:35 – 7:20 | Mountain Park Old Time Band | (Old Time) |
| 7:20 – 8:05 | The Nunn Brothers | (Old Time) |
| 8:05 – 9:00 | The South Carolina Broadcasters | (Bluegrass) |
Saturday October 13th
| | | |
| --- | --- | --- |
| 9:15 – 10:00 | Possum Hollow Old-Time String Band | (Old Time) |
| 10:00 – 10:40 | Plank Road Telephone Company | (Bluegrass) |
| 10:40 – 11:20 | Farmington Bluegrass | (Bluegrass) |
| 11:20 – 12:00 | Bluegrass & Beyond | (Bluegrass) |
| 12:00 – 12:45 | Twin County Ramblers | (Old Time) |
| 12:45 – 1:30 | Fisher's Peak Timber Rattlers | (Old Time) |
| 1:30 – 2:15 | The Southern Gentlemen | (Bluegrass) |
| 2:15 – 3:00 | Reed Island Rounders | (Old Time) |
| 3:00 – 3:45 | Narrow Road | (Gospel) |
| 3:45 – 4:30 | The Country Boys | (Bluegrass) |
| 4:30 – 5:15 | The Buckstankle Boys | (Bluegrass) |
| 5:15 – 6:00 | Slate Mountain Ramblers | (Old Time) |
| 6:00 – 6:45 | Wood Family Tradition | (Bluegrass) |
| 6:45 – 7:30 | Steve Marshall & Highroad | (Bluegrass) |
| 7:30 – 8:15 | The Zephyr Lightning Bolts | (Old Time) |
| 8:15 – 9:00 | Larry Sigmon & The Unique Sound Of The Mtns. | (Old Time) |
Sunday October 14th
| | | |
| --- | --- | --- |
| 1:00 – 2:00 | Paula Dellenback & Fox River | (Bluegrass) |
| 2:00 – 3:00 | By Grace | (Bluegrass) |
| 3:00 – 4:00 | Mark Templeton & Pocket Change | (Bluegrass) |
| 4:00 – 5:00 | Silver Leaf Mountain | (Bluegrass) |