About the Festival (NO PETS ALLOWED)
The Autumn Leaves Festival™ 2019 from October 11-13 marks the 53rd anniversary of one of North Carolina's longest running and most successful events.
The Autumn Leaves Festival™ has been consistently ranked as one of the "Top 20 Events" in the Southeast by the Southeast Tourism Society.
ALL PETS are strictly prohibited inside of the festival boundaries. (Admission is FREE). Hours are 9-9 Friday and Saturday and 12-6 on Sunday.
For lodging go to: http://www.visitmayberry.com/category/lodging/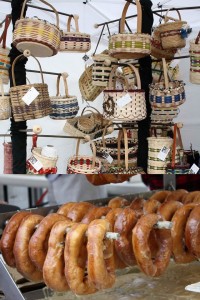 The roster of artisans and craftspeople covers such media as pottery, paintings, textiles and jewelry. The unique arts and crafts of more than 200 craftsmen line the streets (Click here for a list of craft vendors) with many demonstrating their talents and skills passed down through the generations.
Then, there is "Food for the Soul", ham biscuits, collards and cornbread, barbecue, ground steak, Amish Doughnuts and Pretzels and more served with hospitality by our local civic and service organizations. It's a walker's paradise with visual delights and mouthwatering treats at every stop. (Click here for a list of food vendors).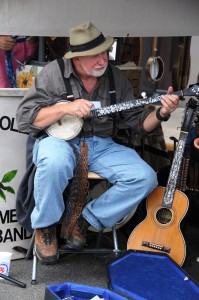 The festival showcases our rich musical heritage, such as Old-time, Bluegrass and Gospel performed by local musicians on the downtown stage. It's a toe tapping, foot stomping, hand-clapping kind of weekend where old friendships are renewed and new friendships are made. The Autumn Leaves Festival™ is a homecoming where guests become neighbors. (2018 Bandstand Schedule)
Free Shuttle (NO PETS ALLOWED IN FESTIVAL AREA)
Shuttle round trip is every 15 – 20 minutes, with hotels and the campground being on call (Ask the front desk to call for shuttle).
Shuttle Schedule
| | |
| --- | --- |
| Friday | 9 pm – 6 pm |
| Saturday | 9 am – 6 pm |
| Sunday | 12 pm – 5 pm |
Pick-Up and Drop Off Locations     (NO PETS ALLOWED)
North end of N. Main St. – corner of W. Elm and N. Main St.
S. Renfro St. at Donna's Barber Shop
South end of Main St. – In front of City Hall
Corner of Willow St. and W. Independence
The Following Locations are on an "on-call" basis
Mayberry Campground
Quality Inn
Holiday Inn Express
Hampton Inn
Knights Inn
Mayberry Motor Inn
Comfort Inn
For More Information call the Mount Airy Visitors Center and Greater Mount Airy Chamber of Commerce at (336) 786-6116 (Or to Schedule a Shuttle Pick up from one of the Hotels in the City Limits of Mount Airy or the Mayberry Campground)
The festival began as a celebration of the end of the tobacco and apple harvesting season over 50 + years ago. Now, we celebrate the breathtaking fall season that is upon us. Through the years, hundreds of thousands of visitors (nearly 200,000 people will frequent the streets of Mount Airy over the three day weekend) have enjoyed the true flavor of rural America and its distinctive character, rich heritage and scenic beauty. Our hometown radiates with the spectacular scenery of the entire mountainside bathed in autumn reds and luminous gold's set against the scenic backdrop of the Blue Ridge Mountains. The area is particularly beautiful at this time of year when there's still a chance to catch some warm sunshine and the leaves start taking on their brilliant colors. Where shadows last a little longer, doors open a little wider, conversation lasts a little longer and the spirit of our community has a captivating quality on everyone who visits. This great community once again puts out the "WELCOME" mat and invites one and all to come and experience the true spirit of America's Hometown.